Smartphones, Fried Squirrel and Heaven
Posted on July 2, 2013 by zenadmin. Tagged:
Westward
Cory Treadway, exec chef of Wynkoop Brewery, on smartphones, fried squirrel and heaven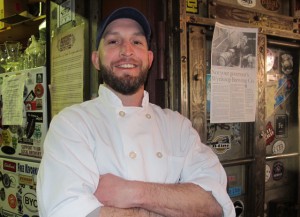 "I was the first white kid — the first gringo — to ever roll egg rolls," declares Cory Treadway, recalling his first gig in a restaurant, a Thai joint in Terre Haute, Indiana, where he was born and raised. "The woman who owned the place liked the way I mopped the floors: I didn't use too much water, and I guess she appreciated that."
Treadwell doesn't mop floors any longer (at least, not routinely), or roll egg rolls. Instead, he oversees the mammoth kitchen at Wynkoop Brewing Company, where he's been the executive chef since last August. And the path leading up to his position there took him through some of the best restaurants in Denver.
Read the full article on Westword.
---